Explore today our new NFTs Drops!
"Art needs a brand new wave, aims to inspire next generation of Art collectors."
MARINA KAMINSKY
Born in Russia. Made in Italy
Painter, Art Performer, President of ADDA (International Cultural Association for the Defense of Artists' Rights)
MARINA KAMINSKY
Russian artist Marina Kaminsky is currently based in Milan, multi awarded, and has shown across Europe. Often working in oil, Kaminsky's paintings focus on embodiment and shifting perceptions of environments.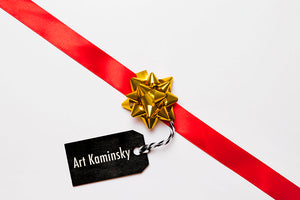 Shopping for someone else but not sure what to give them? Give them the gift of choice with a Art+k+m...
أعرف أكثر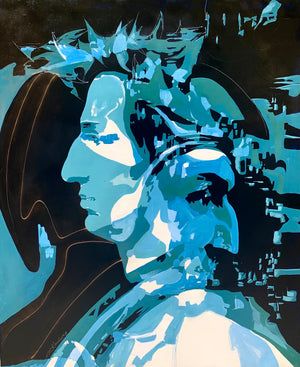 Series: Dante
Year: 2021
Technique: Oil Mixed Canvas
(negotiable price)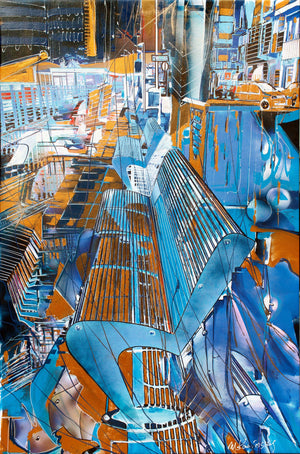 A series of benches on the magnificent Savona's seafront.
Series: Imaginary city
Year: 2018
Technique: Mixed Canvas
Size: 120 x 80 cm
Conservation status: Excellent
Marina Kaminsky's works are a reflection of her personality and emotions, "a cross-section on her world"
Murat Dishek
Almost suspended in the segmented metropolitan lines that accelerate the push for happiness upwards, here are the stairs. Flawless.
Gigarte.com
She made the blue color her inspirational muse. That's why her atelier has been called "a scream of color" in the heart of Milan.
Deodato
Video gallery
"..I fall in love with things just for aesthetic sense and I interpret it through my filter on the world, following my concept of beauty. I don't care how it's called, its potential, the quality, features, and colours; the shape is what captures me, only few details of a form are the ones that turn on my imagination, that push me to paint it on a two-dimensional surface. It becomes an exploratory trip that can go on for hundreds of works. I have been captured by sailing vessels, musical instruments, temptations (snakes and apples), the Milan Cathedral, bridges, bishops and the BMW's motorcycles.
Studio
via Santa Maria Valle, 4 20123 Milano, MI, Italy
info@artkaminsky.com
Monday - Saturday, 12pm to 8pm
Sunday, Closed
Headquarter
528 E 83d St
New York, NY 10028, USA
info@artkaminsky.com
Monday - Saturday, 10am to 9pm
Sunday, 2pm to 6pm